A food and drink guide to Nova Scotia
Have you been watching Paul & Nick's Big Food Trip to Eastern Canada and found yourself drooling over the Nova Scotia cuisine? If so, we have got good news for you – there is way more delicious food in the province than what was shown on television.
Nova Scotia is a food and drinks haven – with everything needed to keep even the most discerning of taste buds satisfied. Whether it's catching your own seafood, trying something completely new, or arousing your senses with some local wines – Nova Scotia has all the flavours you need for a perfect food and drink adventure.
Must try foods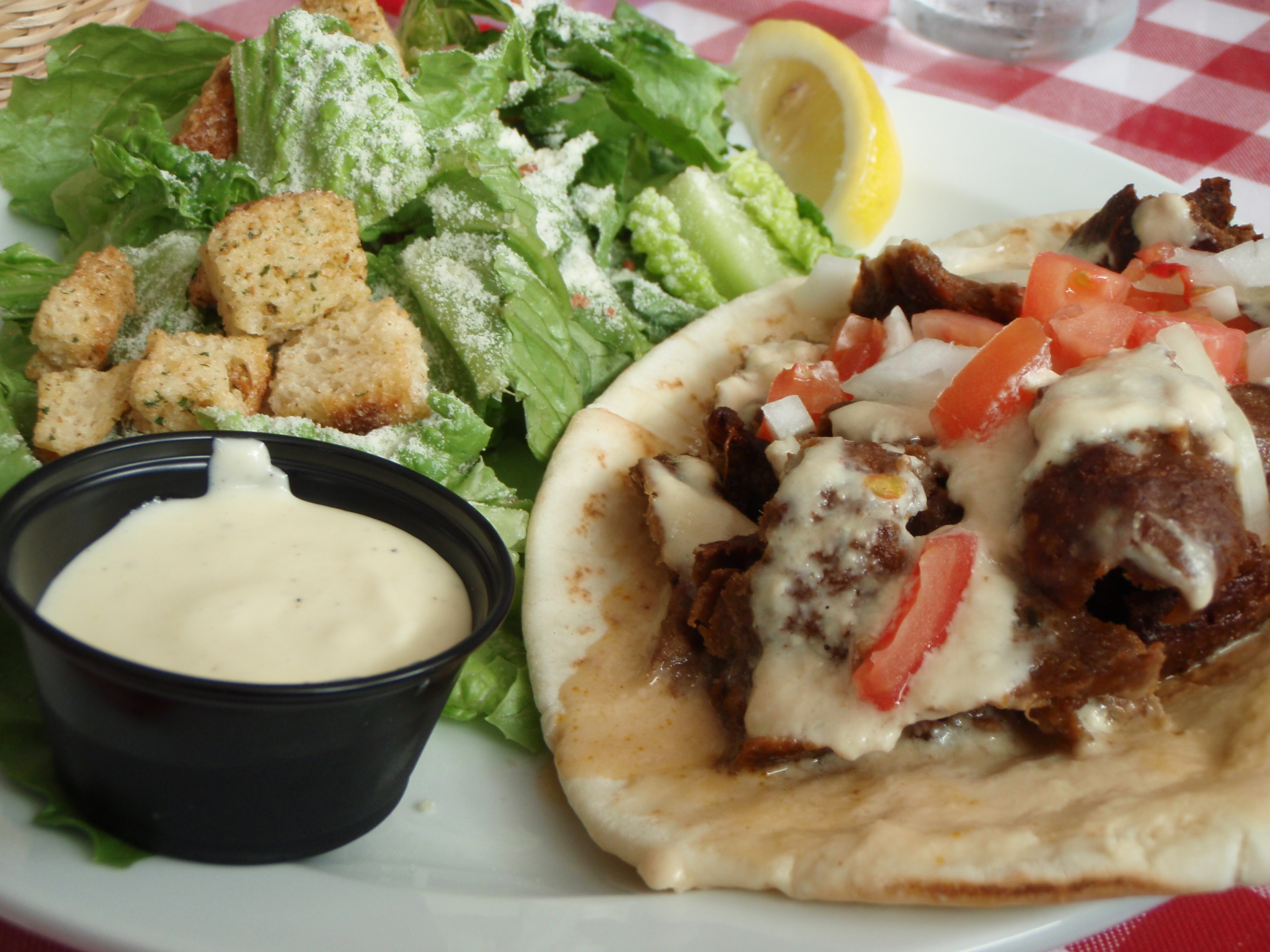 With the Atlantic Ocean on its doorstep and fertile lands that have not been lost to urbanisation – Nova Scotia offers fresh food in abundance. Here are the local foods that we consider to be must-eats.
Lobster
There are very few places in the world where you'll find fresher lobster. Many restaurants serve lobster that was caught just that morning; while lobster tours offer visitors (and locals) the chance to catch their own lobster, boil it and create a meal on the beaches of Nova Scotia.
Other seafood dishes
If lobster isn't your seafood of choice, don't worry as Nova Scotia is home to pretty much every type of seafood you could imagine. Salmon, scallops, oysters, and crab are the other popular choices though.
If you love seafood, we recommend trying out a local chowder – where chefs mix fresh seafood from the clean waters with zesty produce from the valleys. There are many varieties and no two chowders are the same. There's actually a Chowder Trail that runs between March and October, which stops off at seven different restaurants across the island. If you're visiting in January, you'll also have the chance to visit Nova Scotia Chowder Week.
Dulce
Also from the ocean is this edible red seaweed that grows in the Bay of Fundy. It's considered an acquired taste, but it's so easily available that it's worth a try. You can also book yourself a hands-on dulse picking experience in Gulliver's Cove on the Bay of Fundy.
Donairs
If you find yourself with a craving for gyros while in Nova Scotia – never fear, as they have their own version. Made with shaved beef, onions, and tomatoes on a soft pita (usually served with a sweet garlicky sauce). Also, make sure you try out the local donair pizza.
Acadian Rappie Pie
Rappie Pie is a traditional Acadian dish made up of grated potatoes and meat. You can find it at restaurants across Nova Scotia but the Red Cap Restaurant or La Cuisine Robicheau in the Yarmouth & Acadian Shores region is widely considered the best.
Fiddlehead Ferns
You might not be familiar with this curved green vegetable – but you'll find it all over the Atlantic provinces of Canada. Specifically, it is ostrich ferns that are found in North America, and are typically steamed, boiled or sautéed before being eaten hot, with hollandaise sauce, butter, lemon, vinegar and garlic, or chilled in a salad or with mayonnaise.
Blueberries
Wild blueberries are Nova Scotia's provincial berry with over 40 million pounds produced every year. Nova Scotians love it so much that blueberry grunt is the top Nova Scotia dessert, and you'll find blueberry-based products on sale across the island – including juice, liqueur, syrup, beer, soap, lip balm, baked goods, chocolates and preserves. If you visit in late summer you'll also be able to visit a farm to pick your own.
Oatcakes
Indulge in Nova Scotia's Scottish routes with the sweet and salty oatcake. Some variations are even flavoured with peanut butter or drizzled in chocolate for that extra sweet touch.
Food Adventures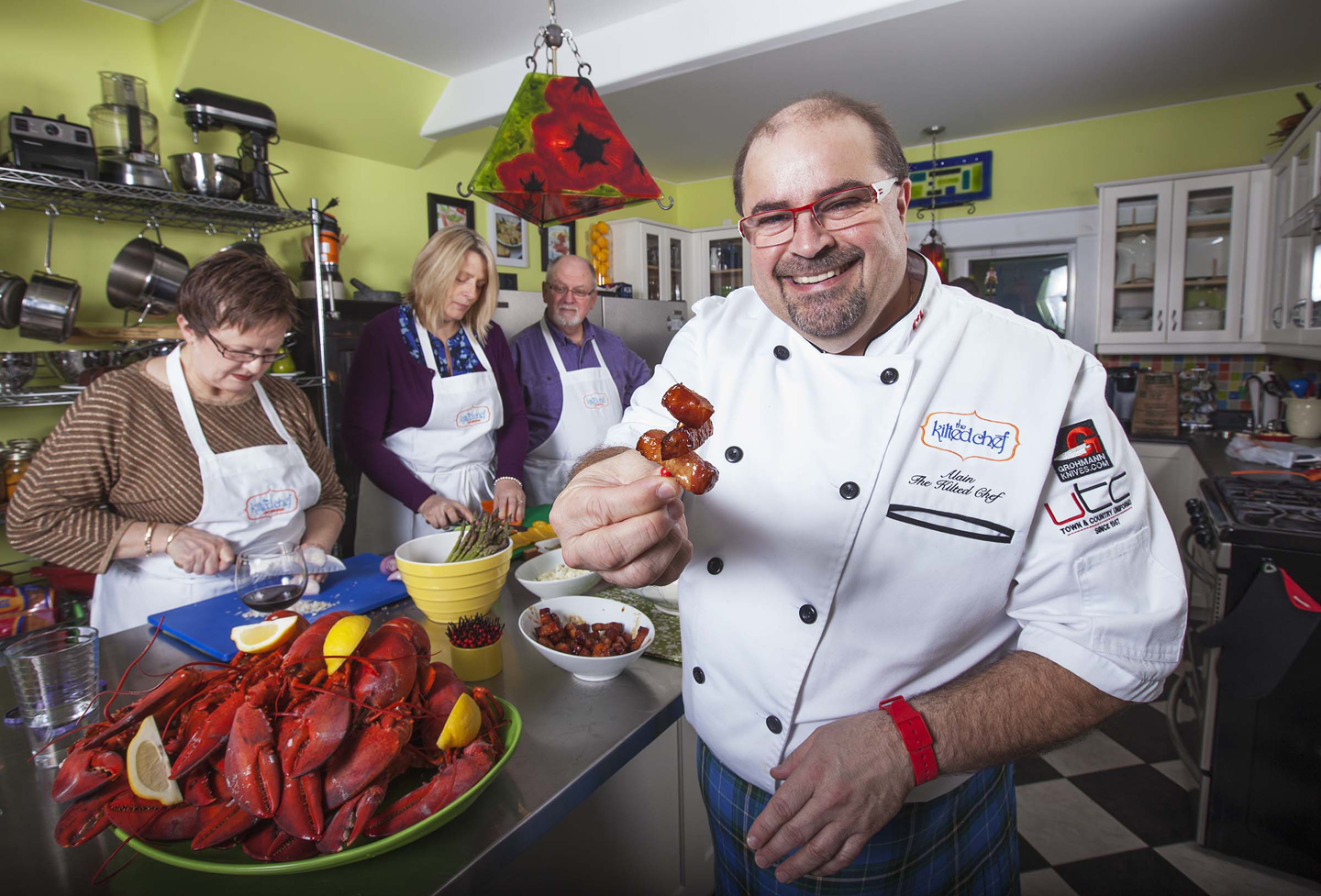 We've already mentioned in passing some of the tours that can help you discover the best food in the province – but here are some more if you really want to explore Nova Scotia's rich culinary heritage.
Farmer's Markets
Nova Scotians are very proud of their local produce and the province is actually home to the greatest number of farmer's markets per capita in Canada. Some farmer's markets run seasonally but there a few that run all-year round. Plus, you can visit actual farm markets – markets located directly on the farmer's land – across the province.
Food trucks
If you're a fan of street food, then remember to stop by the weekly Wednesday Food Truck rallies held at the Museum of Natural History. There's actually a Food Truck Association of Nova Scotia, which includes brands such as Cheese Curds Gourmet Dogs & Poutine, Halifax Donair Shop, and Sea-Hawgs East Coast BBQ.
Beggars' Banquet
Once upon a time rich Nova Scotians would hold secret banquets for the poor. While this practice is thankfully in the past, you can still re-live it. Visit Point of View Suites in Louisbourg, where you'll be treated to an elaborate meal served in a replica 18th century tavern while wearing period costumes.
The Kilted Chef
Another opportunity to experience Nova Scotia's farm-to-table ethos. Meet the Kilted Chef, chef Alain Bossé, who will invite you into his home for a full-day, hands-on culinary experience. You'll start the day by sourcing the freshest ingredients from fish purveyors, butchers, abattoirs and farmers – including advice on selecting the freshest seafood and identifying what cuts of meat work best for certain recipes.
Then you'll return to Alan's home for some light lunch, before beginning your personalised cooking class. The cooking class includes the use of Grohmann Knives which are handcrafted in Pictou, and are recognised by chefs around the world for their quality. Your meal will also include delicious Nova Scotian wine.
Lighthouse Bites: Full Moon Adventure
If you're a foodie who also loves kayaking and happens to be a night owl – we've found the perfect foodie adventure for you. Take a night-time kayaking excursion to Kidston Island in the beautiful Bras d'Or Lake UNESCO Biosphere Reserve, where you'll enjoy hors d'oeuvres showcasing local flavours and seafood prepared by the award-winning Bite House.
The flavours will be paired with Tidal Bay, Nova Scotia's signature white wine, and certified organic craft beer from Big Spruce Brewery. Music and entertainment will also be provided by 2015 East Coast Music Award Winner, Angelo Spinnazola.
Lobster Boil
We briefly mentioned the Lobster Boil Tour earlier – but no trip to Nova Scotia is complete without catching your own lobster and having it prepared for you on the beach. You literally couldn't be eating seafood that's any fresher.
Must try drinks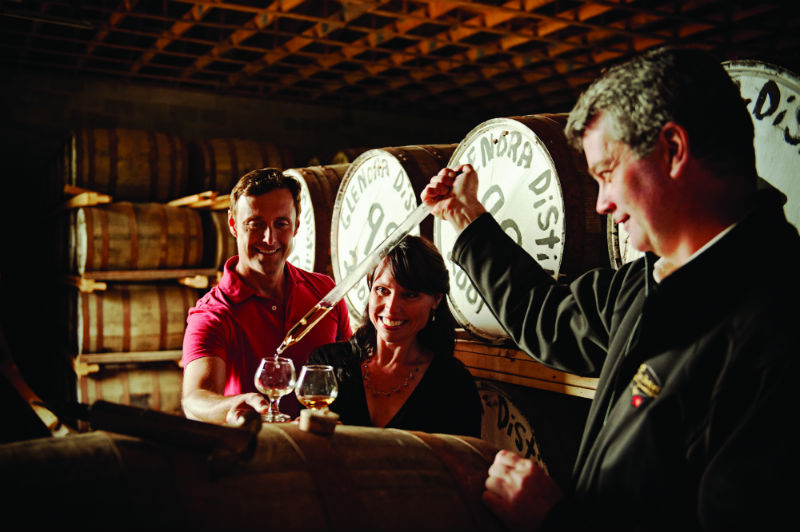 Nova Scotia's fruitful land is also ripe for growing wine, cider and craft beer. Remember to book yourself a spot on the Nova Scotia Good Cheer Trail – which is Canada's first brewery, winery, distillery, and cidery trail. As a note, the legal drinking age is Nova Scotia is 19.
Wineries
Nova Scotia's wine industry is in its infancy, but there are now 70 grape growers and 550 acres of commercially harvested grapes on the island. Most of the grapes are a French-hybrid, but the speciality is definitely ice wine. Icewine isn't harvested until after the frost has settled, where the frost splits the skins and the fermentation process begins with the grapes still on the vine. This creates a super sweet taste and is generally marketed as a dessert wine.
Cideries
Nova Scotia boasts a long history of apple growing, so it's no surprise that the province has flung itself behind the craft cider boom. Many of the cideries on the island offer visitors the opportunity to meet the cider makers, learn about unique apple varieties and sample the delicious products. Some of the most popular cideries that offer tours include Annapolis Cider Company, Bulwark Craft Cider, Meander River Farm and Brewery, and Vista Bella Farm.
Breweries
If you like craft beers, you'll be spoilt for choice in Nova Scotia. Everything is on offer, from India pale ales, lagers, pilsners and stouts to local twists on traditional including spruce, maple, jalapeno, pumpkin and vanilla beers. There is even a Beer Bus tour in Halifax.
Distilleries
If distilled drinks are more your thing – there are two distilleries that are must visits. First is the Glenora Distillery, which is the first single malt whiskey to be produced in North America. The second is Steinhart Distillery – which produces a maple vodka made with local maple syrup.
No matter what it is you drink – whether it's brandy, gin, rum, or flavoured liquors – you'll find a distillery in Nova Scotia to suit you!
What's your favourite Nova Scotia dish?